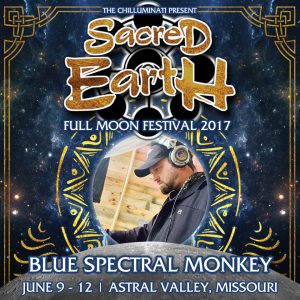 Truly a connoisseur of psychedelic electronic music and art, Blue Spectral Monkey has been evolving, collecting and spinning incessantly since 1995, taking him across 23 states and Canada.
BSM has played over 600 DJ sets spanning many genres and styles. From IDM to minimal techno, dub to funky chillout, glitch hop to drum & bass, psytrance to ambient,  you never know what you might hear in the seemingly infinite depths of his collection!
He is well known for his skills as a downtempo/chillout DJ, and joined the Interchill Records team in 2006.  He dives deeply into the groove, all the time keeping the sounds thick, groovy and trippy.   He has shared the stage with many internationally renown artists including: Androcell, Solar Fields, Gus Till, Bluetech, Kilowatts, Aligning Minds, Jaia, Govinda, Third Ear Audio, Liquid Stranger, Tripswitch, Piltdown Sound, Outersect, Kalya Scintilla, Hypnagog, Mustard Tiger and others!
Still fascinated by the mystery of psytrance, in its many forms, BSM explores this potent musical language with a sense of humor and curiosity.  Focusing more on the techy chunky side of things after some years dabbling in deeper darker foresty sounds, you might also hear a rare set of suomi or daytime party grooves. BSM has played alongside many well known psytrance artists, for example: Lemurians, Onkel Dunkel, Psychoz, Loud, Onnomon, Ocelot, Mubali, Bodhisattva 13:20, Primordial Ooze, Shapestatic, Secret Society, Naked Tourist, Terrafractyl, and many more!
Several years of music production has resulted in over 2 hours of original material, in a collaborative trance project known as Medimonkz, as well as newer material, spanning genres, made more recently alone.  As one of the main organizers of TOUCH Samadhi he was responsible for the facilitation, decoration and promotion of countless dance events across the USA. In addition, he has organized the downtempo stage at the infamous Gemini Festival for two summers.
Check him out on the Earth Stage on Sunday at 1:00AM and on the Sun Stage Sunday at 10:30AM!