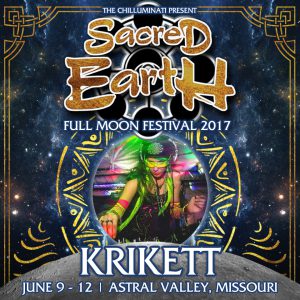 Krikett is a trance-dimensional spacebug known throughout the US for a beyond expectational deliverance of tasty sonical treats and shiney things. With the formula of stimulating track selection, seamless mixes, and profound live presence; she has traveled a multitude of coordinates and thousands of miles for events of every variety.
Frequencies range from all styles psychedelic; mainly psytrance, but also breaks, drum and bass, and techno; while keeping a consistent vibe of all things juicy, weird, fun, and groovy.
Krikett's motive is to always make you move and level up to the next dimensions; she is guaranteed to graciously fill the void and the dancefloor for any occasion in need of a little something extra special.
She is also the head of Synesthesia Deco. By definition, synesthesia is the merging together of senses. She has been involved with many forms of artistic expression since early childhood, and was always drawn to anything bright, unusual, and otherworldly.
In 2011 the concept was born, and thus began an ever expanding atmosphere enhancement project, inspired through attending numerous gatherings of many varieties, and motivated to continuously enhance the experiential movement for all who attend.
Experience Synesthesia Deco all weekend on the Sun Stage and catch her set Saturday morning at 4:00AM!