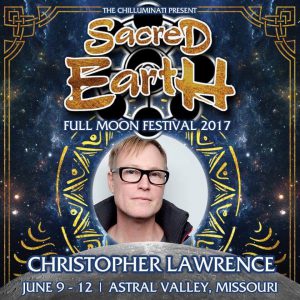 INTRO
Winner of "Best American DJ" at the IDMA's, Christopher Lawrence is recognized as one of the world's top DJs and producers. A dance music legend, he has been described as "One of America's most influential DJs" by DJ Mag and "A trailblazer" by SPIN. With twenty years behind the decks, Christopher is one of the most credible names in dance music whose outspoken support of the underground has earned him the respect of industry and fans alike. Always pushing boundaries, Christopher's tough tech trance and psy-trance infused sets are a favorite on dance floors at the darkest downtown afterhours to the world's biggest festivals.
ACCOLADES
Christopher has racked up numerous awards and accolades over the course of his highly successful career. Ranked #4 in DJ Mag's Top 100 for 2007, he is also a winner of IDMA's "Best American DJ" and DJ Times "America's Best DJ" awards. A recipient of "Best DJ" at both the Dancestar US Awards and Los Angeles Music Awards, he has been nominated in Dancestar UK Awards, DJ Awards, International Trance Awards and the Global DJ Mix Awards. Christopher has graced the covers of countless magazines, newspapers and music websites worldwide, and is the only DJ to make the cover of America's DJ Times magazine twice in one year.
TOURING
With a club touring schedule circling the globe, Christopher delivers his unique brand of underground mayhem to dance floors from Avalon Hollywood and Ministry of Sound to Home Sydney. He has hosted his own arena at Dance Valley, and played major festivals including Coachella, EDC, Ultra, Dreamstate, Luminosity, Creamfields and many more. Christopher was also the only DJ invited to headline all three of the inaugural Ministry Of Sound, Cream and Gatecrasher tours of America.
PRODUCER
Described as "A Highly Respected Producer" by Mixmag, Christopher's name is a familiar sight on the Beatport Top 10 charts with recent smash singles – There Is A Place, Banshee, Unbroken, The Dark, Terminus, Tremor and Dark on Fire. A dance music pioneer since the nineties when he signed with Hook Recordings, Christopher's tracks have been championed by every major trance DJ including Armin van Buuren, Paul van Dyk, Paul Oakenfold, Tiesto, Simon Patterson, John O'Callaghan and many more. Christopher's discography includes two Billboard Top 10 artist albums All or Nothing and UnHooked. On the remix front, Christopher has lent his talents to artists from LMFAO to U2. His music has also appeared on TV shows from MTV's Real World to Hotwheelz and an upcoming episode of Orange is the New Black, plus games including Need for Speed.
PHARMACY MUSIC
Pharmacy Music has exploded over the past few years with a thriving roster of cutting edge producers who continually push the boundaries and regularly top the Beatport charts. And with the recent launch of Pharmacy Radio, a global series of Pharmacy label nights, a new imprint Pharmacy Plus, along with the Pharmacy: Phase compilation series, it has become unstoppable. Pharmacy represents the new sound of trance, a sophisticated hybrid of underground, psy-trance and tech, which is not only redefining the genre, but giving it new credibility.
RADIO
Christopher recently launched Pharmacy Radio which is a re-branding of his hugely popular radio show Rush Hour which celebrated it's 100th episode in 2016. Rush Hour was one of the worlds most groundbreaking dance music shows with syndication on Digitally Imported and 120+ FM stations worldwide. Christopher is also a frequent guest resident on Sirius XM's Electric Area with guest mixes on radio shows including BBC Radio 1's Essential Mix.
FLEMING & LAWRENCE
Following original production work and a joint mix compilation together, underground trance titans John 00 Fleming and Christopher Lawrence officially joined forces under the moniker Fleming & Lawrence. The pair have appeared at festivals from Dreamstate to Fright Night as well as a series of open-to-close nights everywhere from Buenos Aires to Hollywood and New York to Toronto. The buzz on this duo is massive!
SUMMARY
You don't stay in the business this long unless you consistently deliver. A dance music legend with a career spanning two decades, Christopher Lawrence knows what it takes to destroy a dance floor. He remains on the front line of the underground with his tough, high energy sets, cutting edge productions, prolific label and groundbreaking radio show. Along with a legion of hardcore fans, his skills behind the decks and integrity in music has brought him to the attention of a new generation who are discovering the underground for the very first time.
We hope you're as excited as we are to welcome Christopher Lawrence to the Chilluminati Family for the first time! Catch him on the Sun Stage, Saturday night at 10:00PM!
For all the details on Sacred Earth 2017 and to purchase tickets, click here!