GATE PRICES:
Single day tickets are not available for Sacred Earth 2017. However, we do offer reduced admission depending on when you arrive. Here's the breakdown:
Friday: $130 per person
Saturday after 12:00PM (NOON): $90 per person
Sunday after 12:00PM (NOON): $50 per person
Kids 10 and under are free.
We have some important last minute details to share with you, so please take the time to read this post in its entirety. Most of your questions will be answered here.
ARRIVAL AND DEPARTURE:
Gates officially open Friday June 9 at 12:00PM (NOON). We cannot accept any registrations before that time. If you have a Thursday arrival, you can come anytime after 12:00PM (NOON).
We are currently scheduling to end the music sometime early Monday afternoon. When the event is "over", you are not required to leave the grounds. You are welcome to stay an extra night or two to make sure you are well rested for your journey home. It is important to us that everyone begins their trip home safely. Everyone is welcome to stay until you're rested and ready to depart. No member of the Astral Valley or Chilluminati staff will make anyone feel unwelcome should you choose to stay later than Monday.
All transactions at the venue will be in cash only. There is limited internet access throughout the grounds and we will not have any way to process credit or debit cards. This includes vendors and ticketing. There is an ATM on-site.
Please remember that your safety is our priority and your participation is at our discretion. We reserve the right to deny entry or make anyone leave for any time for any reason (or no reason) without a refund. Be respectful to those around you, obey the posted rules, pick up after yourself. Help us leave Astral Valley (and our reputation as a community) better than you found it.
OUR VISION:
We invite all to come dance, relax, join our community workshops and explore the wonder for 4 days and 3 nights in observance of the Gemini Sun+Sagittarius Full Moon of June 2017. Sacred Earth Open-Air, our longest running festival, is created as a "Cosmic Condensate" in which our music, motion, light and love form a structure in space and time to create  a microcosmic celebration of the infinite. 3 stages of world-class visuals & art and 70+ musicians from all over the world to take you on a voyage through space, hyperspace and the dreamtime through Goa trance, psytrance, full-on, neuro, progressive trance, forest, hi-tech, ambient, PsyDM, world, downtempo, atmospheric, experimental and everything in between.
Come celebrate this phenomenon of the cosmos with The Chilluminati as we continue in our twelfth year of bringing psychedelic trance music, tradition and culture to North America.
WE PROVIDE:
3 stages of sound, visuals and light, 4 days and 3 nights of camping in the glorious Missouri Ozarks about 1 hour south of St. Louis at Astral Valley. Multiple campsites, natural beauty including caves and a stream on over 200 acres. Full vending onsite including art from leading regional artists.
YOU PROVIDE:
A tent, preparation for rugged conditions, enough food and beverages for the weekend (or some cash – food and beverages will be available for sale, including alcohol for 21+)
ABSOLUTELY NO GLASS, NO PETS and NO RENEGADE SOUND! (this includes sound systems at your campsite!)
Please respect the venue by keeping the grounds free of litter.
**This is a LEAVE NO TRACE EVENT**
Become part of the community. Help the planet, and help us. Pick up after yourself. Leave the site, and our reputation as a community, better than you found it.
https://www.facebook.com/Birds-Eye-Projections-590351664337346/
Live VJ and video mapped projection stage design
https://www.facebook.com/PsynesthesiaC/
By definition, synesthesia is the merging together of senses.Based in the southeast of USA, Psynesthesia is the psychedelic UV design project of Krikett. She has been involved with many forms of artistic expression since early childhood, and was always drawn to anything bright, unusual, and otherworldly.In 2011 the concept was born, and thus began an ever expanding atmosphere enhancement project, inspired through attending numerous gatherings of many varieties, and motivated to continuously enhance the experiential movement for all who attend.
https://www.facebook.com/Nephil9/
NephilNine is the brainchild of New York artist Sue Helfrich, creating event decorations and installation art since 2004. A classically-trained artist with a degree in Fashion Design from Fashion Institute of Technology (NYC, USA), Helfrich is deeply involved in each NephilNine installation:
"What drew me to decorating events was a passion for immersing someone in a fantastic environment. As a child, I dreamed of being able to explore the surreal worlds portrayed in fantasy/science fiction movies and TV shows. Now I enjoy being able to create worlds of my own design, even if only for a night, so that others may explore them."
The NephilNine repertoire includes stretched spandex forms, a variety of geometric and organic 3-D UV sculptures, and large-scale string installations. These often psychedelic creations define events ranging from underground dance parties and major music festivals to private ceremonies and celebrations all over the world. NephilNine's art is primarily made of layered cut fabric shapes. The fabric, which is often combined with other types sculpture, shapes space and light, surrounding performers and participants in beautiful environments.
Each space is different. No two installations are alike. Each is a study of Impermanence, Improvisation, and Growth. Lighting provided by other artists adds changing dimension. NephilNine takes the entirety of the space into consideration when designing, including the environmental impact of the materials used.
http://www.facebook.com/TheSyntheticDreamFoundation/
Immersive, interactive visuals
Turbo Sound by:
https://www.facebook.com/paradigmproaudio/
Music Lineup (click on any artist to learn more) :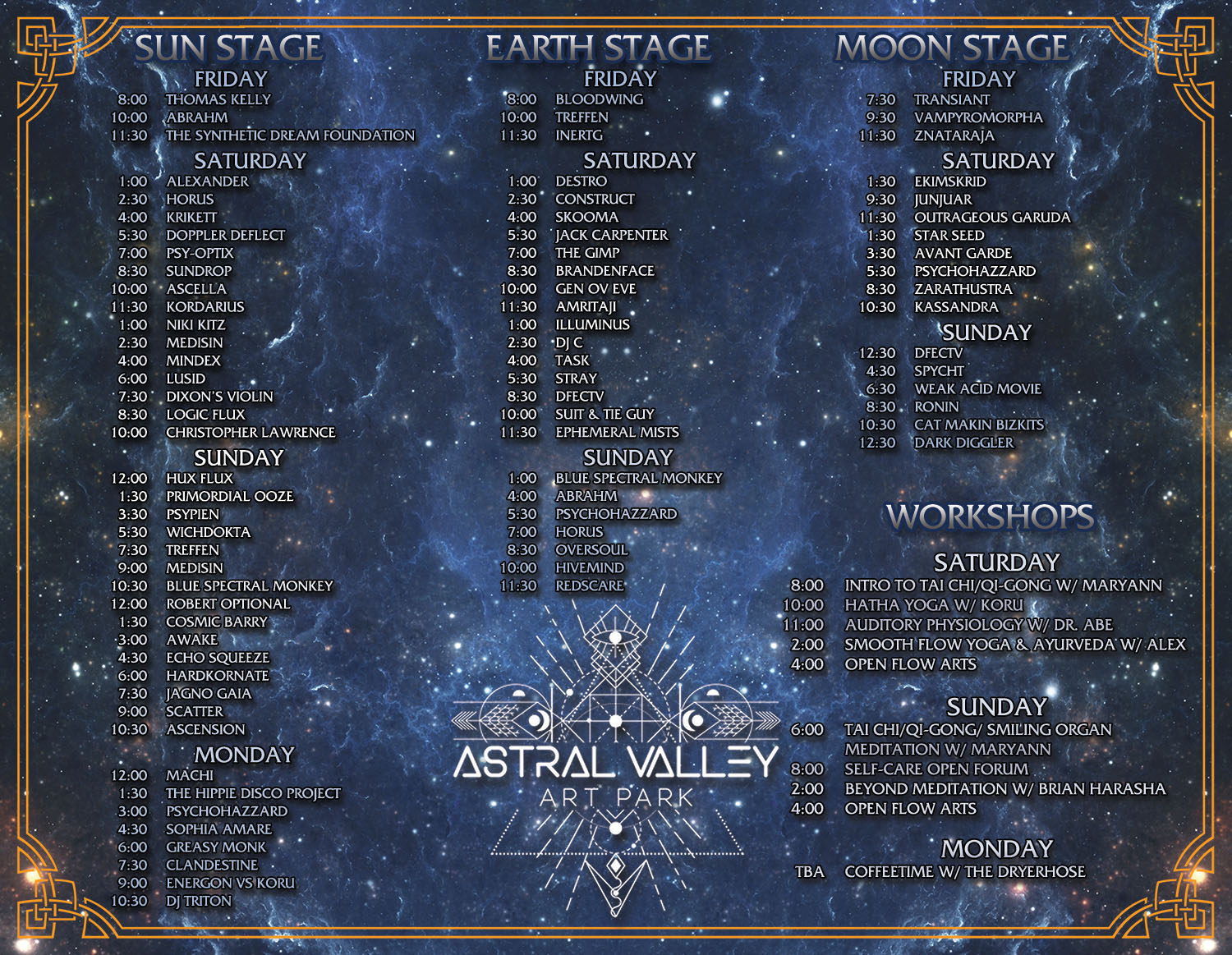 Sacred Earth 2017 Technology Preview: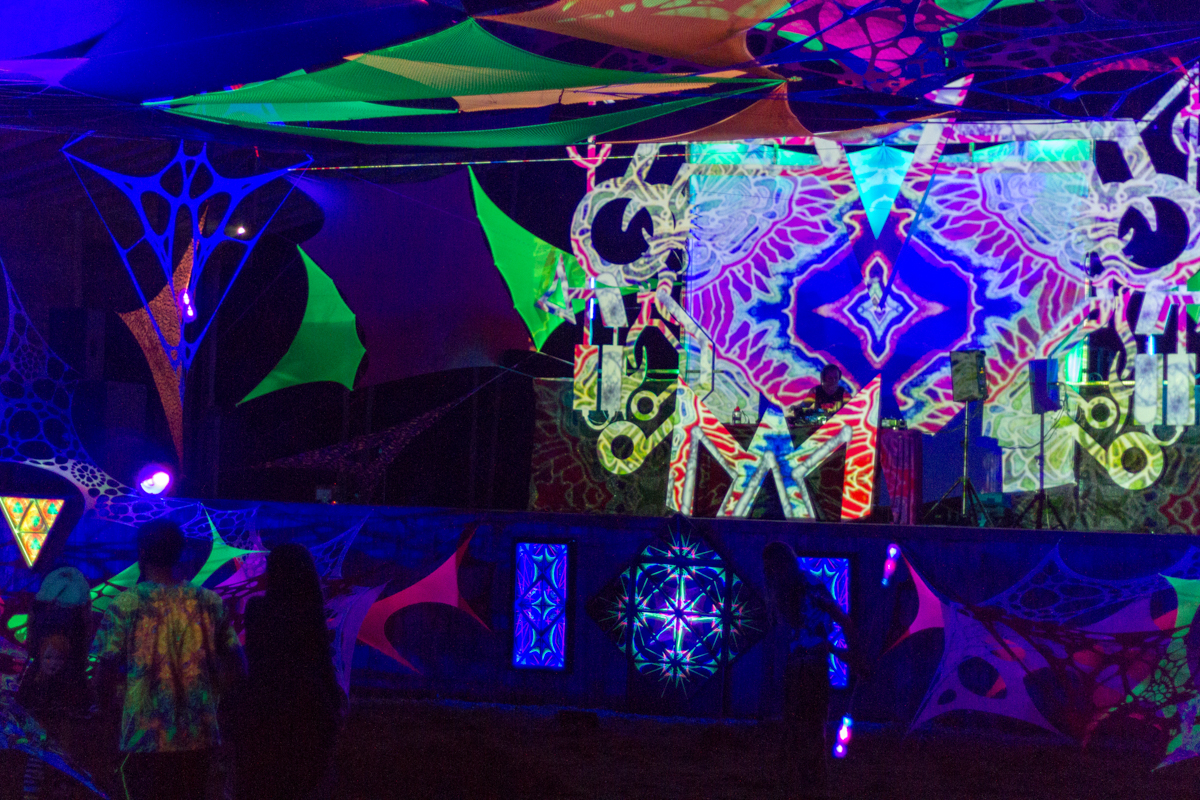 Astral Valley is an interactive art gallery & organic orchard nestled on over 230 acres in the Missouri Ozarks. Located only 45 minutes South of St. Louis, it was originally settled by Dutch-German immigrants in the 1800s. Not long after, the town of Koester, MO was founded, complete with a general store, post office, blacksmith shop, steam mill, livestock barn & school house. Today only a few old buildings & mostly foundations are what remain. With over 230 acres to be explored the opportunities to get close & interact with nature are endless. In addition to miles of nature trails, a crystal clear creek, wild caves & a spring, it is home to over 200 species of wild animals. Astral Valley has unique rock outcroppings, two wild caves, 20-40 ft granite cliffs, and quartz crystals galore. Prepare to immerse yourself into a perfect integration of the longest running psychedelic trance festival in the Midwest and the wonder that is Astral Valley for Sacred Earth Open-Air 2017.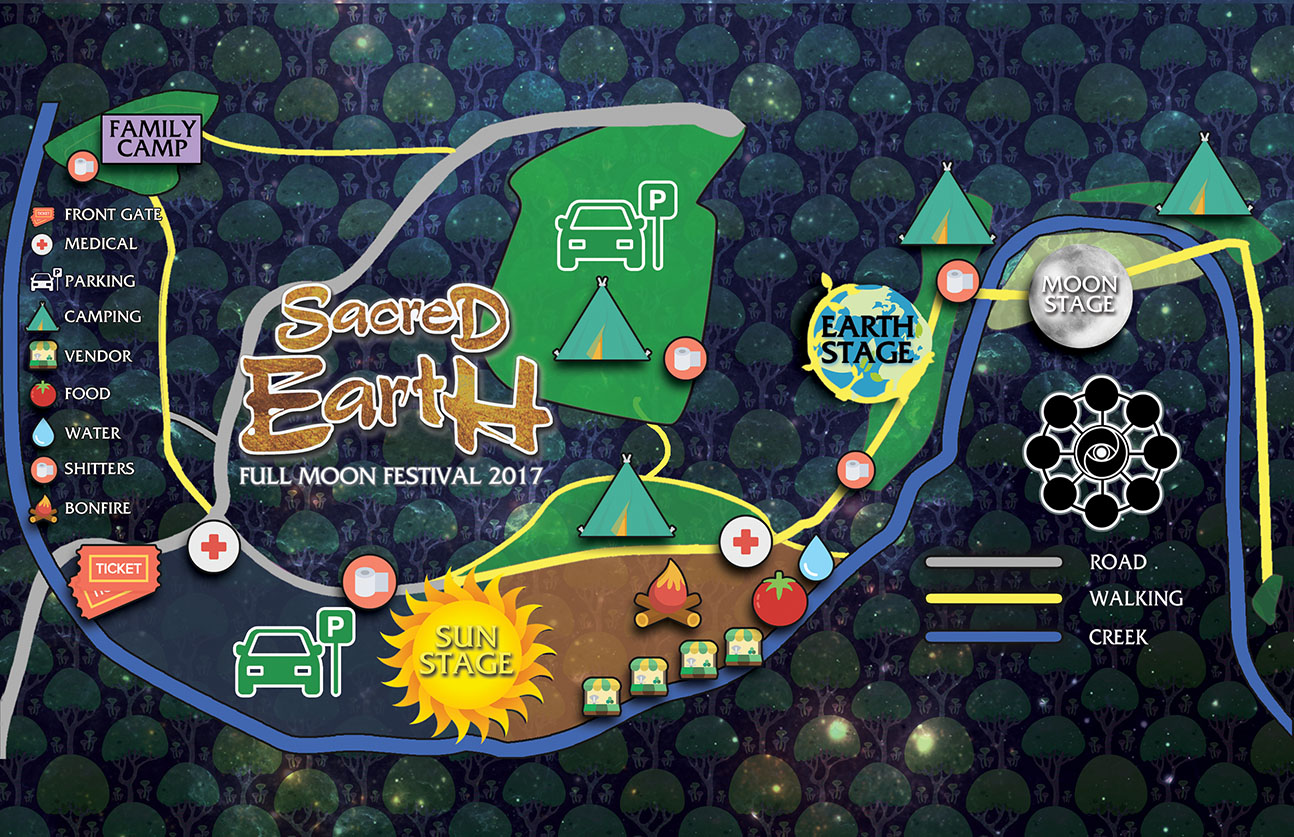 NO WEAPONS of any kind (regardless of permit)

NO ILLEGAL DRUGS or Drug Paraphernalia – Violators will be ejected from the Festival & are subject to prosecution under local, state, & federal laws.

NO GLASS – bring your drinks in aluminum or plastic please

NO FIREWORKS or explosives of any kind

NO DOGS or PETS – if you bring animals you will be turned away at the gate.

NO ATVs, Golf Carts, or UTVs

NO UNDERAGE DRINKING

NO DRIVING around event grounds

5 MPH Speed limit throughout event grounds

NO DRINKING & DRIVING

NO UNAUTHORIZED VENDING

CAMPFIRES will only be allowed in established fire rings, burn barrels, or raised patio pits

BIKES will be allowed, but must be well lit up for your safety if using them at night

RESPECT the beauty of Astral Valley, please use recycling bins & consider your neighbors

LISTEN TO & Respect all staff, security & volunteers. Your safety is our #1 concern

ALL PERSONS behaving in an illegal, offensive or disorderly fashion will be removed from the festival without refund

Click to See Photos from Sacred Earth Open-Air: 2016 Summer Solstice Festival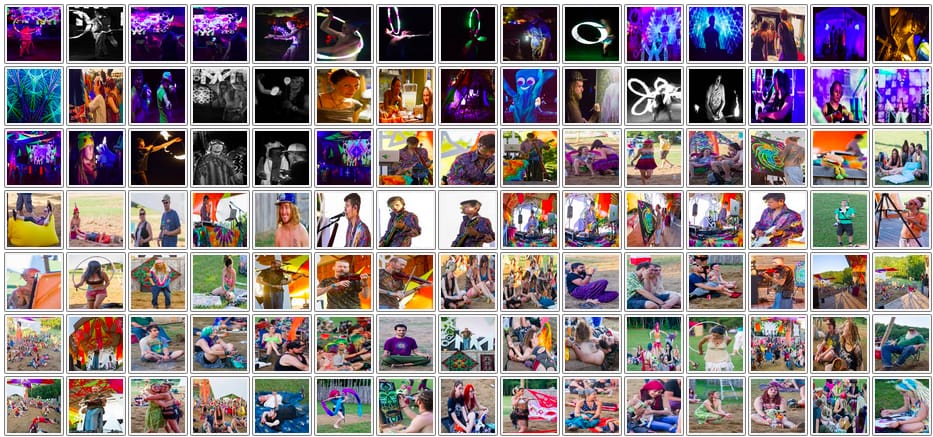 Each ticket purchased is good for one (1) admission to the festival. Tickets are generally non-refundable. Tickets may be transferred or sold, however any tickets purchased from outside this website are purchased at your own risk. We will not alter the name on any ticket. The name on the ticket is not important as long as the ticket is valid. Protect your purchase. Don't buy from anyone you do not know. Do not purchase tickets from Craigslist.
You must be 18+ years old to attend Sacred Earth Open-Air. Valid ID may be required. Acceptable forms of ID are driver's license, state issued ID or a passport.
Children are welcome with a responsible parent. We will have a dedicated camp area for children and daytime activities, but your children must remain under your supervision at all times. Children 10 and under are free with a paying parent. Children over 10 will need a ticket at regular price.
You are permitted to leave and come back without paying a re-entry fee. We do ask that you come prepared to stay.
You will be issued a wristband upon check-in. Your wristband must remain visible at all times. Lost or damaged wristbands will generally not be replaced.
Your admission and participation is at our discretion. We reserve the right to refuse entry, or require you to leave at any time for any reason or no reason. 
Arrival Time:
The gate opens at 12:00pm (NOON) on Friday June 9. Registrations cannot be accepted before that time. If you or your group wish to arrive early, you may purchase a Thursday arrival option. This option is is a one-time, single purchase per car (not per person) and is $50.  This must be purchased in advance. Anyone arriving before the gate opens on Friday that is not a properly registered volunteer or has not purchased a Thursday arrival will be turned away.
[products ids="120491, 120453, 120452″]
Upper and lower level camping is included with every ticket purchase. Please come prepared for rugged conditions. While you may camp anywhere you choose, camping will not be permitted directly in the stage areas or areas that are designated exclusively for special use such as parking, vending, workshops and daytime activities.  The Kids Camp area is reserved for parents with small children only.
Single-Day passes:
No single-day passes are available for Sacred Earth Open-Air. Gate admission / will call tickets will be reduced by 50%  for anyone arriving after 12:00pm (NOON) Sunday.
https://www.facebook.com/MonkeyBunnyInc/
Monkey Bunny Inc. local leaders in psychedelic, and blacklight reactive, three dimensional apparel for men and women. We bring RAVE. CLUB. FESTIVAL. FASHIONS. to events near you from brands like Public Beta and Kikwear!
https://www.facebook.com/RollAwayTheDough/
Build your own and cooked to order. Roll Away The Dough uses only local farmers, which helps support the community and gives us the freshest ingredients. Many vegetarian, vegan and carnivore options available. They did an outstanding job at Sacred Earth 2016 and we are glad to have them back as our exclusive food vendor for the weekend.
Information coming soon!
Pre-order your Sacred Earth 2017 t-shirt today! This custom design created by Public Beta Wear is printed using dye sublimation. Colors won't fade over time and it won't shrink. Limited quantity available. Unisex.
Orders will begin shipping at the end of May.
[products ids="127700″]
Other new things:
[products ids="128173, 128210, 128235″]
DeSoto and Festus are nearby towns. St. Louis is about an hour away.
Hotels: There are 3 hotels located in Festus, MO
Hospital: Mercy Hospital Jefferson in Festus, MO
Airport: St. Louis International Airport
Rental Car: Rental cars are available at the Airport.
Hardware Store: Home Depot, Festus MO, Wal-Mart Super Center (DeSoto)
Camping Supplies: REI St. Louis, Wal-Mart Super Center (DeSoto)
Gas Station: BP (DeSoto)
Grocery Stores: Wal-Mart Super Center (DeSoto), Sav-A-Lot (DeSoto)
Pharmacy: Walgreen's (DeSoto)
Approximate drive times from popular cities:
Asheville: 8 hours
Atlanta: 8 hours
Austin: 11 hours
Bloomington/Normal: 3 hours
Chicago: 5 hours
Cincinnati: 5 hours
Denver: 12 hours
Des Moines: 5 hours
Detroit: 8 hours
Indianapolis: 4 hours
Jackson: 6 hours
Kansas City: 2 hours
Little Rock: 5 hours
Louisville: 4 hours
Madison: 5 hours
Memphis: 3 hours
Milwaukee: 6 hours
Minneapolis: 8 hours
New York City: 15 hours
Oklahoma City: 7 hours
Omaha: 7 hours
Peoria: 3 hours
Phoenix: 20 hours
St. Louis: 45 minutes
Tampa / St. Petersburg: 14 hours
Toronto: 11 hours
Weather Forecast for Astral Valley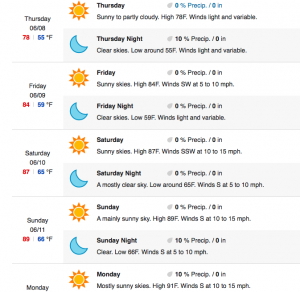 Contest is closed, and the winners have been picked! See below!
First Prize
Second Prize
Third Prize
Winner: Erin  R.

2 Free Tickets to Sacred Earth
+
Digital Download of Hux Flux EP "Strange Things"

Winner: Michael L.

Sacred Earth 2017 T-Shirt
+
Digital Download of Hux Flux EP "Strange Things"

Winner: Olivia L.

Sacred Earth Wall Poster
+
Digital Download of Hux Flux EP "Strange Things"
Thanks for participating everyone!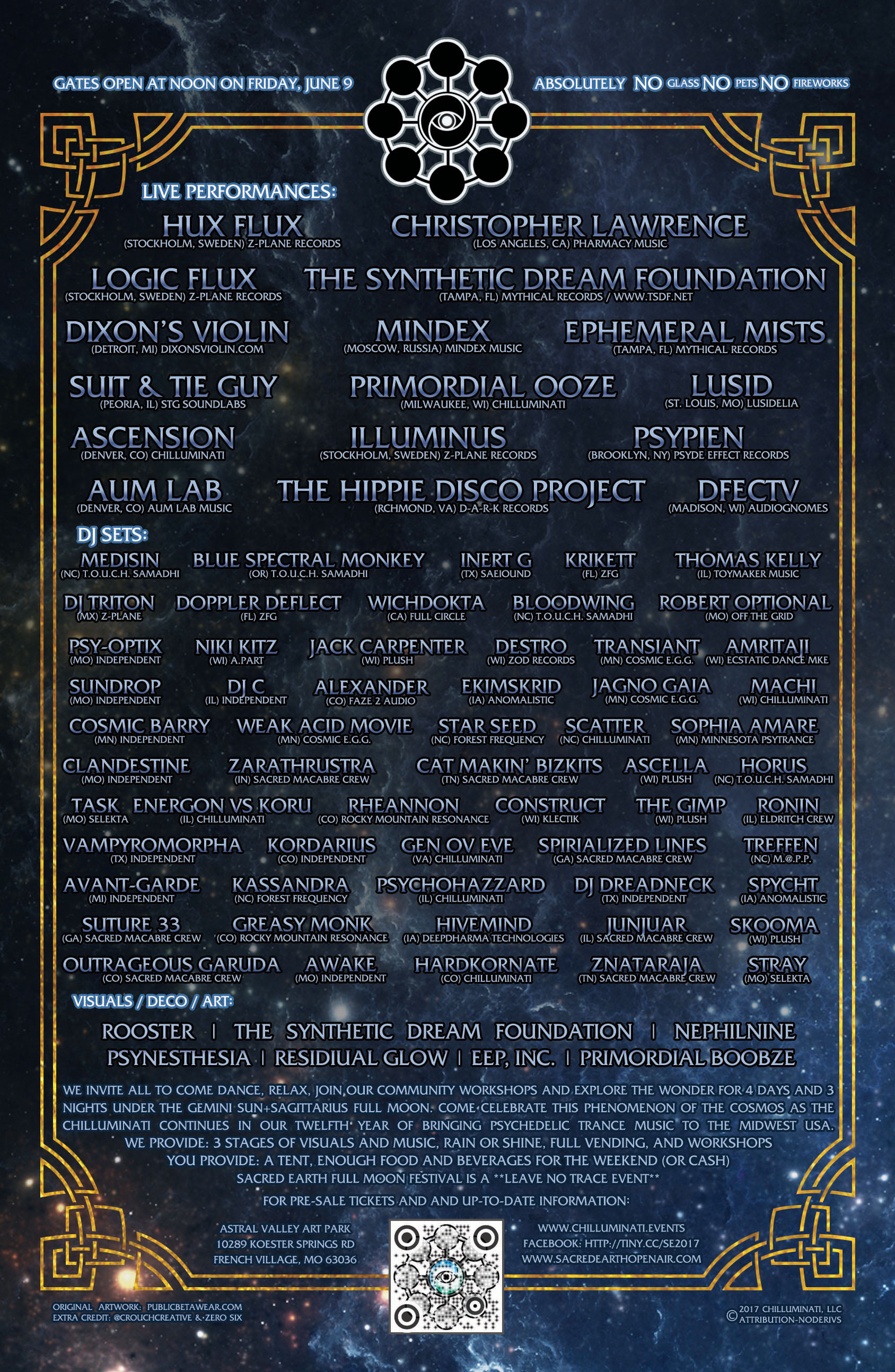 Sacred Earth Open-Air is an 18+ event (unless accompanied by a parent)
More activities  and community workshops are in progress! We'll announce these soon!
About The Chilluminati:
Psychedelic trance, chill and ambient are the music that we play. Music in itself is a transformative and psychedelic agent. Our gatherings are more than music, however. They are multidimensional and multifaceted experiences-incorporating musical, visual, art and kinetic performances, as well as interactive workshops and community.
Our gatherings are about transformation and becoming. Whatever your sense of spirituality is, you bring that to the event. At our gatherings everyone takes responsibility for the event, others and themselves.
Our gatherings have an atmosphere and a vibe. The event is a field of energy that connects us. Our gatherings are about expressing yourself, being creative, and being an individual. Our gatherings are inclusive and open.
Our gatherings are both local and planetary; reflective of the American Midwest, yet global and culturally diverse.
We respect local laws and customs.
Our events are a gift which we all (organizers, artists, DJs, stagehands and attendees) give to each other. This is not about money, commercialization and exploitation. This is not a product; this is a community.