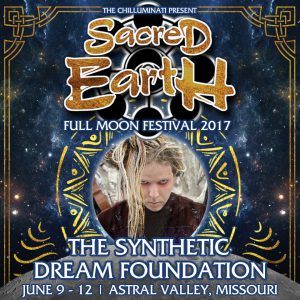 The Synthetic Dream Foundation is a music project formed in late 2006 by film music composer, Brett Branning. Brett is also the composer of the neo-classical music band, Abandoned Toys and the world fusion, ambient music project Ephemeral Mists. His unique fusion of psytrance, industrial and psybreaks has made him a long-time favorite among The Chilluminati.
The project has collaborated with various female singers from the industrial and symphonic metal scenes, including: Hannah Fury,Marcela Bovio (Stream of Passion), Summer Bowman (The Machine in the Garden), Susan Siren, and Lauren Krothe. The Synthetic Dream Foundation has also performed remixes for many ebm, synthpop, and industrial bands including Suicide Commando, System Syn (metropolis records), Grendel, XP8 (infacted records in Germany), and In Strict Confidence.
The Synthetic Dream Foundation has been booked for some of the biggest goth industrial events in the world, including headlining the 2008 edition of Goth Con. In addition to their three solo albums, TSDF has had tracks appear on several compilations in the industrial music scene including Cryonica Tanz vol. 5 (cryonica records) and Cyberlab vol. 5 (Alfa Matrix records), and Odyssey of rapture vol.1 (mythical records).
His discography includes:
Tendrils of Pretty (Mythical Records) (2006)
Behind the Gates of Horn and Ivory (Mythical Records) (2008)
Mechanical Serpent (Mythical Records) (2010)
Where Drowned Suns Still Glimmer (Mythical Records) (2013)
The Witch King (1st Movement) (Mythical Records) (2015)
As Ephemeral Mists, he merges ambient electronic music, electronic beats and textures, with acoustic instrumentation from the middle east and far east.
The project has collaborated with many of the most prominent artists and labels in the psychedelic ambient music scenes including Mythical records, Atmosheric records, Ultimae and Altar records.
Ephemeral Mists has been actively touring the United States and the middle east and has shared the stage with many other influential world fusion acts such as Karsh Kale, The Desert Dwellers, Conjure One and Delerium.
He uses many instruments from the classical traditions of the far east and middle east including the Shakuhachi, Ney, hand percussion and Koto.
As a self-taught musician, we have a lot of respect for his work. We can't wait to hear what he has in store for us! You can catch The Synthetic Dream Foundation on the Sun Stage Friday night (11:30PM) and Ephemeral Mists on the Earth Stage on Saturday night (also 11:30PM).