[products ids="260208,260196″]
JOIN US ON THE 17TH YEAR OF OUR LONGEST RUNNING PSYCHEDELIC TRANCE MUSIC FESTIVAL
Come create a phenomenon of the cosmos with The Chilluminati as we continue in our 17th year of bringing psychedelic trance music, tradition and culture to North America.
Sacred Earth Open-Air, our longest running festival, is created as a "Cosmic Condensate" in which our music, motion, light and love form a structure in space and time~ Join us in creating a microcosmic celebration of the infinite for our 17th year!
Multiple stages of world-class visuals & art and musicians from all over the world to take you on a voyage through space, hyperspace and the dreamtime through Goa trance, psytrance, full-on, neuro, progressive trance, forest, hi-tech, ambient, PsyDM, world, downtempo, atmospheric, experimental and everything in between.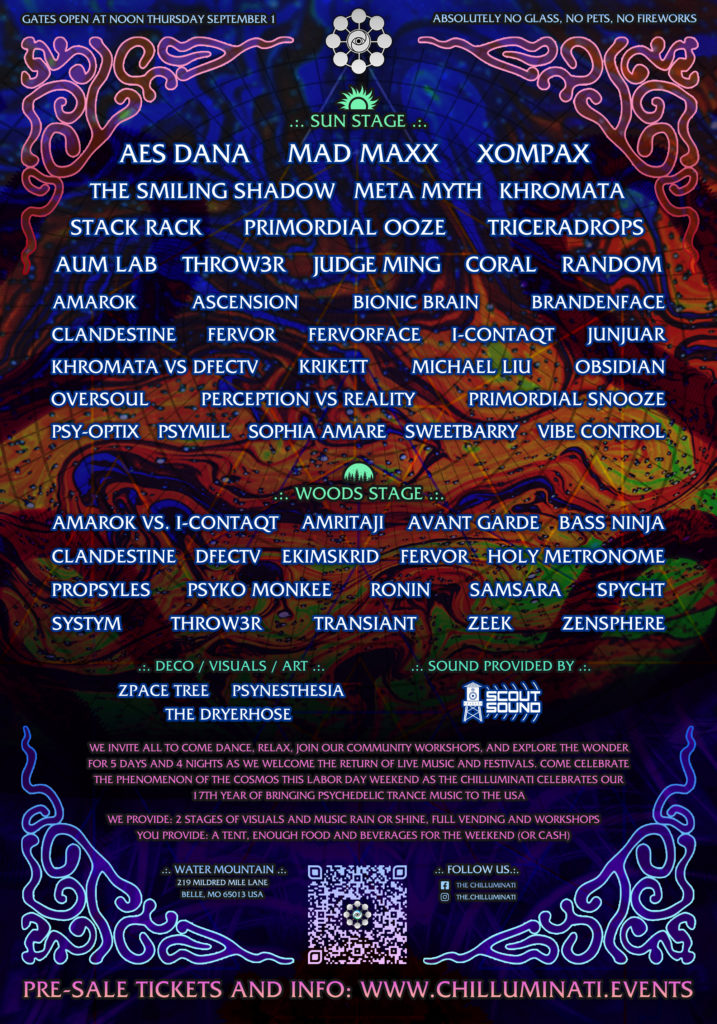 OUR VISION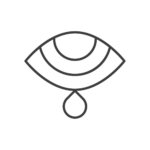 We invite all to come dance, relax, join our community workshops and explore the wonder for 5 days and 4 nights at Water Mountain in the
Missouri Ozarks.
WE PROVIDE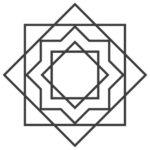 Sound, visuals and light: 5 days and 4 nights of camping and community.
YOU PROVIDE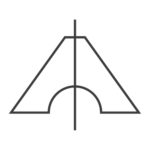 A tent, preparation for rugged conditions, enough food and beverages for the weekend (or some cash – food and beverages will be available for sale. Alcohol is BYOB for 21+)
ABSOLUTELY NO GLASS, NO PETS and NO RENEGADE SOUND! (this includes sound systems at your campsite!)
Please respect the venue by keeping the grounds free of litter.
**This is a LEAVE NO TRACE EVENT**
Become part of the community. Help the planet, and help us. Pick up after
yourself. Leave the site, and our reputation as a community, better than you found it.
PURCHASE TICKETS
Download or listen to the official promo mix from Christopher Lawrence here:
Artist Lineup
---
Max Peterson has been performing and releasing his unique brand of trance music under various project names since 1998. Max was born in San Diego, California in 1979, and spent most of his teenage years in France. He then developed his production and performance skills in California, Mexico, Spain, and every part of the planet with a vibrant trance scene.
Max's passion for music began at a young age. Max's father Gary Peterson is a highly accomplished composer, guitarist, and keyboard player. Gary was a member of influential 60's-70's cult band "Formerly Fat Harry". His band played next to legends such as Pink Floyd, Roy Harper, Third ear band, King Crimson, Fleetwood mac, to name a few… Max's first tracks were recorded and produced by Gary when Max was just 14 years old.
Upon moving to the U.S., Maxx joined the pioneering trance music collective and record store – The Ion Exchange in Santa Cruz – as co-owner and resident DJ. Maxx moved onto DJ'ing in San Francisco, playing for all the Bay Area's trance venues including the trance collective CCC. He also performed at all the underground warehouse and outdoor events in Northern California. Max quickly gained respect for his stomping deep psychedelic sets. At this time he also toured Canada and other cities in the USA. In 2000, Max formed the seminal San Francisco trance project BIODEGRADABLE with Samy Guediche of CPU, and Nicolas Oesch of Mekkanikka. In 2001, they released their album Phaser which received great success at the time in the psychedelic scene and became a springboard for all members to launch their successful solo projects. In 2001, Max joined up with Davina Elmosnino and formed the trance project Sirius Isness. Sirius Isness went on to release more than 150 tracks on prestigious trance labels. Sirius releases 3 full length albums "Resolution of Duality, Breaking the Matrix , Trancefusion".
Max, then started in his solo project in 2007- MAD MAXX- the result of years of hard work, perfecting a unique sound, embodying all the travels, experiences and parties of the past 20 years. The music is a mix of trance, ethnic and deep sounds, with a strong kick and ominous bass line, an electro touch, emotional chants, and at times nostalgic atmospheres, with a BPM ranging from 138 to 145 in general. All of this sonic mayhem delivered in a whirlwind of psychedelia of course…. MAD MAXX has been delivering his live set to all trance freaks in the world on a weekly basis, and has collaborated with numerous artists…He is also the proud owner of United Beats Records, one of the most successful record labels in the Psychedelic trance scene, surrounded by all of his best artist friends and pushing newcomers to new heights.
Max has also joined forces with Olli Wisdom from Space Tribe, to form their duo "MAD TRIBE", a journey into the wacky adventures of psychedelia through insane graphics and a twisted sense of humour.
MAD MAXX's 3rd album will be out one day, no one really knows when, not even him… Be ready for another mystical journey into the inner self…
---
AES Dana is the main moniker for Vincent Villuis, a French composer, sound designer, Dj and co-owner of Ultimae records as well as one of the founding members of Asura.
Bass player and singer in several coldwave and industrial bands as a teenager, Vincent then moved on to composing with machines and specialised in sampling and layering of acoustic sounds digitally transmuted. His music is a fusion of Deep Ambient, Downtempo, IDM, infused with hints of Neo-Classsical Electronica, Industrial and Liquid Drum'n'Bass.
As AES Dana, he produced 6 solo albums, an audio samples library, participated to about 3 dozen compilations while collaborating on three albums with Swedish artist Magnus Birgersson under moniker H.UV.A.Network and with Greek artist Miktek on the release of EPs and the Fragments Libraries. He is also known for his artistic direction on the Fahrenheit Project series of compilations (Ultimae) and, as head of the Ultimae Studios, has earned a solid reputation for his audio mastering works. Vincent Villuis was the official Artist in Residence at « Les Dominicains de Haute Alsace » between 2009 and 2012 which led to collaborations with artists and choirs from the Classical Music world and compositions for multi-diffusion installations such as « Le Jardin Magnétique » and creation of audio-guides for the site.
He composed scores and licensed existing works for short and feature films, documentaries and BBC tv programs such as « Atrophy Bank » by Sam Asaert, « The Passport » by Amund Lie, « Mandorla » by Roberto Miller or « Breath of Life » by Susan Kucera which opened new perspectives on composition and sound design and collaborations with various advertising agencies.
---
---
The Smiling Shadow is an expression of colorful darkness and twisted excitement; pushing ever further into alternate realms of existence.
---
We are collective of musicians, dancers, and visionary artists working out of Aum Lab Studios founded at Mineral Hot Springs, Colorado. Bringing medicine music to our audiences and uniting our community of instrumental artists is our cause.
Spearheaded by sound engineer Avery Runner, the project brings a wide cultural array of tribal electronic influences to the sound system. Music healing artist Rachael Fox Feather manages the project, bringing therapeutic sound modalities and vocals to our stunning studio and stage performances. Based on a simple invocational performance, with additional musicians and performers from across our diverse community, we provide a creatrix of music and dance performance. Exploring archetypes of collective consciousness, we apply neo-ceremonial staging to to our electro sound healing fusion. Our intentions are to create a sacred container within our performances, allowing our culture to explore and express personal mythologies into shared creation.
Rachael is a long term student of sound healing and actively works with many renowned sound healers around the United States. A mother, artist, healer, oracle and DJ she manifests magic in all she touches. Avery is a student of indigenous musical traditions since childhood. With decades of experience holding energetic containers for community transformation, he is a visionary artist, music studio engineer, event promoter, and record label manager. A popular DJ in the Rhythm Sanctuary tribe of Denver, Avery is a well appreciated musical influence in the Colorado community. Together, Rachael and Avery are founders of Meta Myth, applying sound healing to electronic dance. With the upcoming album "Codes Of Creation" releasing on Ishtara Music later in 2020, Meta Myth is an emerging music performance accepting bookings around the world.
Creating songs from investigations into a variety of cultural influences and electronic dance styles, Meta Myth explores global rhythms, deep atmospheres, psychedelic leads and organic instruments in a sea of modern effects. Creating sets that appeal to a wide dance audience while generating sound healing overtones, dance floors and ceremonies alike open their hearts to these transformational performances.
---