Sacred Earth Open-Air 2006
May 26, 2006 @ 8:00 am

-

May 29, 2006 @ 5:00 pm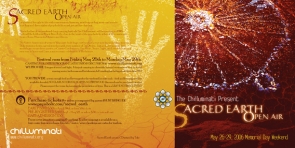 The Chilluminati present
Sacred Earth Open Air
May 26-29 2006 Memorial Day Weekend
@ a location TBA, near Black River Falls, Wisconsin
An open air camping festival brought to life with consciousness, harmony, mind-expanding music & visuals. Four days & three nights of psychedelic sound, visuals, art & fire dancing.
::: TIME AND LOCATION :::
When: Memorial Day Weekend Friday May 26 – Monday May 29, RAIN or SHINE ; specific times TBA @http://www.chilluminati.org
Where: near Black River Falls, Wisconsin – maps, directions, details TBA @http://www.chilluminati.org
::: BUY TICKETS :::
18+ unless accompanied by parent (MUST BRING ID)
EARLY BIRD $30 to April 30th, or first 50 tickets
PRE-REGISTERED $40 May 1st (or whenever EARLY BIRD tickets sell out) to May 22nd
GATE ADMISSION $50
Ticket prices cover performances, tent camping and parking for 4 DAYS and 3 NIGHTS, and campground facilities. Trailer camping is available on a limited, first-come first-serve basis. Electric/water/sewer hookups are extra for trailers. Inquire for details.
PURCHASE TICKETS @http://www.psymbolic.com/sacred_earth
::: AUDIO : LIVE MUSICIANS :::
LOUD (live)
Com.pact / Dooflex / Divine Balance / dbsonic – [Israel]
LOUD (Kobi Toledano and Eitan Raiter, located in the city of Haifa Israel) were both infected by the psytrance bug and movement back in the mid-nineties. While both were travelling and experiencing global psychedelic culture, the two cosmically met and LOUD was born. LOUD has a significant and daring new sound, fresh and powerful, always seeking to expand their knowledge and results. LOUD have licensed many tracks, to be featured on labels such as: Trancelucent, Doof Records, Skykey Records and Divine Balance Records. Their full-length album will be coming out soon on Com.pact Records.
Onnomon (live)
Soular Records / Psymbolic Shop – [Pennsylvania]
Onnomon is rapidly emerging as one of the top psytrance producers in the world. His recent album, "No Monno" was referred to as "An utterly smashing surprise…" on psyreviews.com. He's had releases on countless labels and recently returned from touring in Israel. His unique style is not to be missed! (CDs & Album Downloads available through Psymbolic's online shop.)
http://www.psymbolic.com/…mon/index.html
Androcell (live)
Celestial Dragon / Psymbolic Shop – [Arizona]
With his new second album "Efflorescence" just coming out on Celestial Dragon Records, musician and artist Tyler Smith, aka Quasga, will navigate a psychedelic night-time landscape anchored in dub and integrate organic and electronic sounds. Warm melodies are diversified against a framework of intricate rhythms and arching harmonies. Unique spoken samples are incorporated seamlessly and used with clear intent. Interstitial atmospheric sounds provide for a continuous listening experience. (CDs & Album Downloads available through Psymbolic's online shop.)
http://www.psymbolic.com/shop/music/androcell/index.html
Bodhisattva 13:20 (live)
Geomagnetic / Divine Balance – [California]
Coming out of the dark desert scene Bodhi shares a bit of sacred magic as he twists your mind with new and unheard complex frequency function combinations. He is an award-winning electronic musician with releases on such labels as Truffle, Trishula, Psybertribe, Vertigo and coming soon on Geomagnetic/Darkstar Records will be his highly anticipated 2nd album "Secrets of the Mojave."
KiloWatts (live)
Diffusion Records / Psymbolic Shop – [Pennsylvania]
Recently completing his 4th album, "Routes", among numerous singles and remixes, James Watts continues to create dynamic and unpredictable moods with his music. He's generally known for his complex rhythmic audio editing, sliced and diced to all hell, married to wistful melodic structure and vaporous soundscapes. His livesets are a combination of intricate programmed beats and sojourns into improvised experimental groovology, often evolving into thick layered violet walls of sound. (CDs & Album Downloads available through Psymbolic's online shop.)
http:///…m_solving.html
Merkaballah (live)
Space Dub Vibrations – [Colorado]
Merkaballah, is comprised of Jym Fair, Avery Runner, and Doug Beechwood. Formulated in 2002, the group has been seen @ VideA in Barcelona Spain2002: AVit Chicago in 2003; "Motion Notion' near Edmunton, Alberta Canada also in 2004; 'As One' festival near Eugene Oregon 2004; and most recently at 'One Tribe' functions on their home turf of Denver, Colo. Merkaballah's DVD A/V single 'Theta Drive', continues on where 'Alpha Code', DJ Elf Arrow (Avery) and VJ Pixylight's (Jym) DJ/VJ mix DVD, leaves off. Theta Drive wisks its viewers into theta consciousness, by means of mixed archetypical imagery.
Convolution Integral (live)
Joshbrill dot com – [Illinois]
Josh Brill orchestrates and manipulates soundscapes, live instruments and dense modern harmonies while using a jazz/jam band improvisational approach. The psymbient sound that CI brings to the world is a duality of the ambient and the participatory. The guitar soundscapes that CI creates begin with a single note, and through the use of loops, the past and present meet as they convolve with their distant relative, future. Josh has toured as a guitarist with numerous national and international acts.
Kourosh Dini (live)
Psymbolic Shop – [Illinois]
Kourosh Dini is a classically trained musician & a psychiatrist focusing on the development of human & thought. The creation of his music is a reflection of the development of life such as that of a person's. His cycling flow of dark & light offers a soundtrack for philosophical contemplation, a great backdrop for generating conversation & a must listen for those who wish to dig a little deeper to appreciate the beauty contained within. (CDs & Album Downloads available through symbolic's online shop.)
http://www.psymbolic.com/shop/music/kourosh_dini/index.html
Venus,i (live)
[Illinois]
Chicago based Venus, i has been brewing its special blend of organic electro dub since 2005. A robust yet rich full-bodied tonic with a sweet manicured finish, leaving you with a pleasantly funky aftertaste. In just over a year Venus, i has found a voice it's proud to call its own, expressed through tones ranging from ambient minimal soundscapes to melodic beat driven dub.
::: VISUAL : LIVE PERFORMANCES :::
For 3 nights, 8 collectives of visual artistry match cutting-edge technology with unparalleled performance. A "Hexagonalism" custom projection display, Pioneer's newest DVJ video turntables, multiple realtime interactive visual systems, a virtual teleportation booth where participants can send video postcards to their future selves & the most cinematic moments of console game graphics culminate into an extraordinary dance space experience.
VJ Pixylight
Space Dub Vibrations / Inside Us All – [Colorado]
Reality Engine
Realityengine dot org – [New York]
Matyas
Realityengine dot org – [New York]
Psymbolic
Psymbolic dot com – [Illinois]
VJ Mason Dixon
VJmasondixon dot com / MG Chicago – [Illinois]
Dr. Spook
Geomagnetic / Divine Balance – [San Francisco]
MFVJ
MFchicago dot com – [Illinois]
Merkaba Visuals
Performance Visual Entrainment – [Illinois]
Video Janitor
Videojanitor dot com – [Illinois]
The League of Light
Theleagueoflight dot com – [Illinois]
::: DECOR : ART INSTALLATIONS :::
Devorah – Vision Collective – [Chicago]
Alison aka Sprite – Microcosm Muse Productions / Audiognomes – [Illinois]
Gaian Mind – Gaian-Mind dot com – [Florida]
Alberto – Cosmic Traveler – [Italy]
Serena – Doodlbug – [North Carolina]
::: AUDIO : DJs :::
Allen
Gaian Mind – [Florida]
Dr. Spook
Geomagnetic / Divine Balance – [San Francisco]
Pedro
Interchill – [New York]
Blue Spectral Monkey
Interchill / Touch Samadhi – [North Carolina]
Mist
Acidance / Mistical Productions / Divine Balance – [Texas]
Witchdokta
Full Circle / Phoenix Family – [California]
Arahat aka DJ Hidro-Ponik
Cosmic Theatre – [California]
Alberto
Cosmic Traveler – [Italy]
Airyck – Subconscious Collective – [Iowa]
NOD – Touch Samadhi – [North Carolina]
D.N.X (Dan Efex) – Danefex dot com – [Illinois]
S.O.T. – Touch Samadhi / Chilluminati – [Illinois]
Kaiser Soze – Touch Samadhi / Chilluminati – [Wisconsin]
Asmadeus – Native State / Chilluminati – [Illinois]
Derby – Touch Samadhi / Chilluminati – [Illinois]
Underfoot – Audiognomes / Chilluminati – [Wisconsin]
Toki – Audiognomes – [Wisconsin]
Shai – Divine Balance / Chilluminati – [Illinois]
Robyo – Audiognomes – [Illinois]
PsiloPsyBen – Audiognomes – [Wisconsin]
Damon – Divine Balance – [Illinois]
Select A-B – independent – [Illinois]
m50 – Consumers Label – [Illinois]
Destro – Zod – [Wisconsin]
Cringer – Part Time Suckers – [Illinois]
Kat_zyie – Part Time Suckers – [Illinois]
Jeekoos – Part Time Suckers – [Illinois]
Kee – Part Time Suckers – [Illinois]
Details
Start:

May 26, 2006 @ 8:00 am

End:

May 29, 2006 @ 5:00 pm
Organizer
Venue
N8390 US-12




Black River Falls

,

WI

54615

United States

+ Google Map
To top