The Chilluminati present an elaborate evening of kinetic visuals and psychedelic trance music as we take over an all-new venue in downtown St. Petersburg, FL!
Join us for another evening of world-class music talent, mesmerizing visuals, and amazing art installations as we continue in our 14th year of bringing psychedelic music and culture across North America.
Metatronic is a 21+ event. Open bar (FREE BOOZE!) until 3:00AM!
Limited $30 (+ tax and fees) GA Tickets are on sale now! 
Tickets will be more at the door (IF AVAILABLE)!
Tickets are sold through Resident Advisor.
Audio navigation: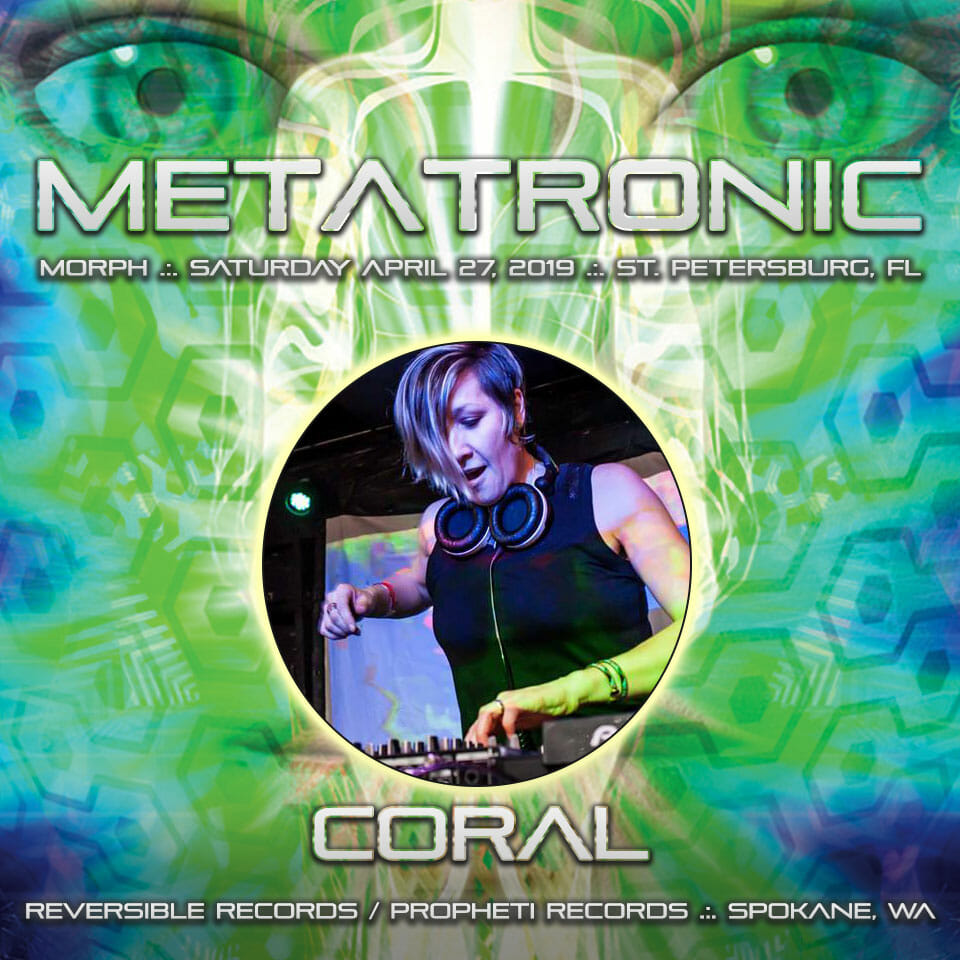 Coral
Reversible Records / Propheti Records .:. Spokane, WA
In 1999 Coral began her DJing journey when introduced to the irresistible sounds of psytrance. Her insatiable appetite, energy and joy of the music has naturally evolved into the world of production. Coral plays international parties and festivals, delighting fans with a captivating energy all her own.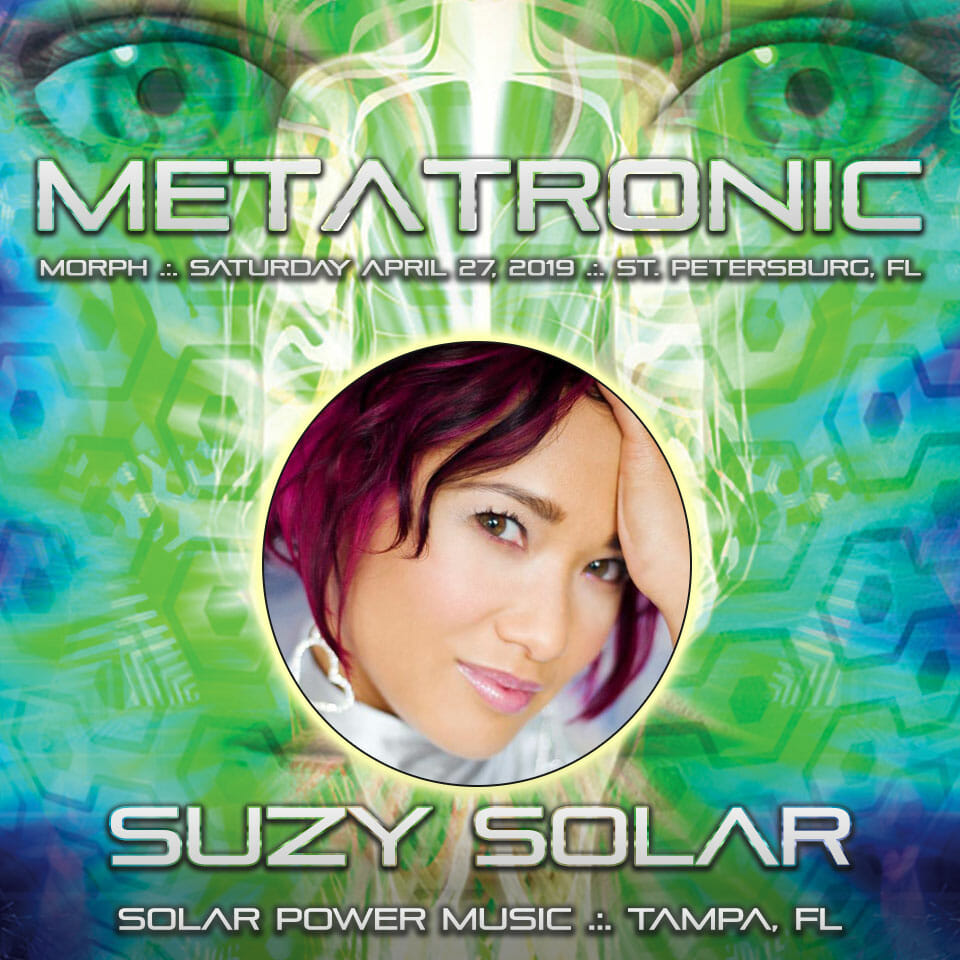 Suzy Solar
Solar Power Music .:. Tampa, FL
Suzy Solar (Florida, USA) shines as an internationally acclaimed trance and progressive music artist. This multi-talented DJ, vocalist, song writer, music producer and event coordinator has become a legend since her start in 1997. Her debut track "Ocean of Love" is featured on Paul Oakenfold's Grammy nominated album "Creamfields," and was released on EsNtion Records with a music video. Suzy's mix albums, "The Perfect Trance" and "The Perfect Trance 2.0," on Neurodisc/Capitol Records have topped Billboard's U.S. Electronica charts. "Samurai," her collaboration with Arizona (Thomas Bronzwaer) has graced dance charts worldwide, including Beatport's top 10. It's supported by the world's top DJs, including Armin Van Buuren (ASOT episode #248). "Samurai" also appears on the "Technics DJ Set Volume 16" compilation and Riley & Durrant's "A Quest For Trance 2".
Suzy's company Solar Power Music, Inc throws trance events regularly in central Florida and beyond. Solar Power Music also has a residency with "Lost in Trancelation" at Bikkuri Lounge, Orlando, bringing the top names for a "big DJ, intimate venue" trance family experience. She's a pioneer for trance in her hometown, Tampa and has played in nine countries, both headlining and opening for the biggest names in trance, such as Armin van Buuren, Ferry Corsten, Paul Oakenfold, Above & Beyond, Cosmic Gate and many more. She's placed at #93 in the TrancePodium 2016 Top 100 DJs poll.
Suzy's popular radio show, "Solar Power Sessions," is one of the longest running trance shows in the world. Founded in 2001, it's passed the 800 episode milestone and is still going strong. Suzy is also A&R for We Are Trance (Bonzai) label and hosts their monthly "We Are Trance" radio show on AH.FM. She has a third radio show, "Solar Power Progressive," where she plays progressive house and techno monthly on Progressive Beats Radio. She's often featured on DI.FM and has been a guest on prestigious shows such as BBC Radio's Dave Pearce "Trancecast," Paul Van Dyk's "VONYC Radio" and "Mondo Vs Noys" on Ministry of Sound Radio.
This multi-faceted artist continues to be one of the most sought after female DJs in the world and we are thrilled to have her re-join the Chilluminati family in 2019!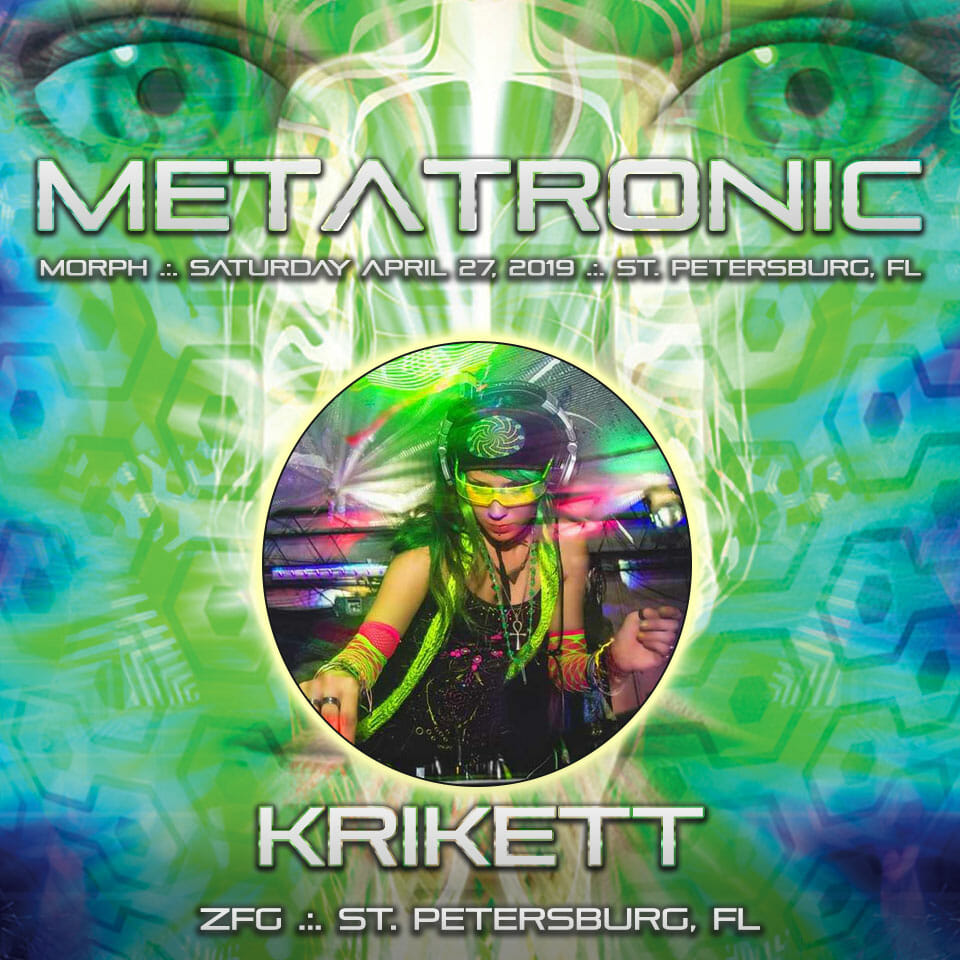 Krikett
ZFG .:. St. Petersburg, FL
A trance-dimensional spacebug known throughout the US for a beyond expectational deliverance of tasty sonical treats, Krikett lives by the formula of stimulating track selection, seamless mixes, and profound live presence. She has traveled a multitude of coordinates across the globe for events of every variety. Frequencies range from all styles psychedelic; while keeping a consistent vibe of all things juicy and groovy. Krikett's motive is to make you move and level up to the higher densities; she is guaranteed to graciously fill the void and the dancefloor for any occasion in quest of something extra terrestrial.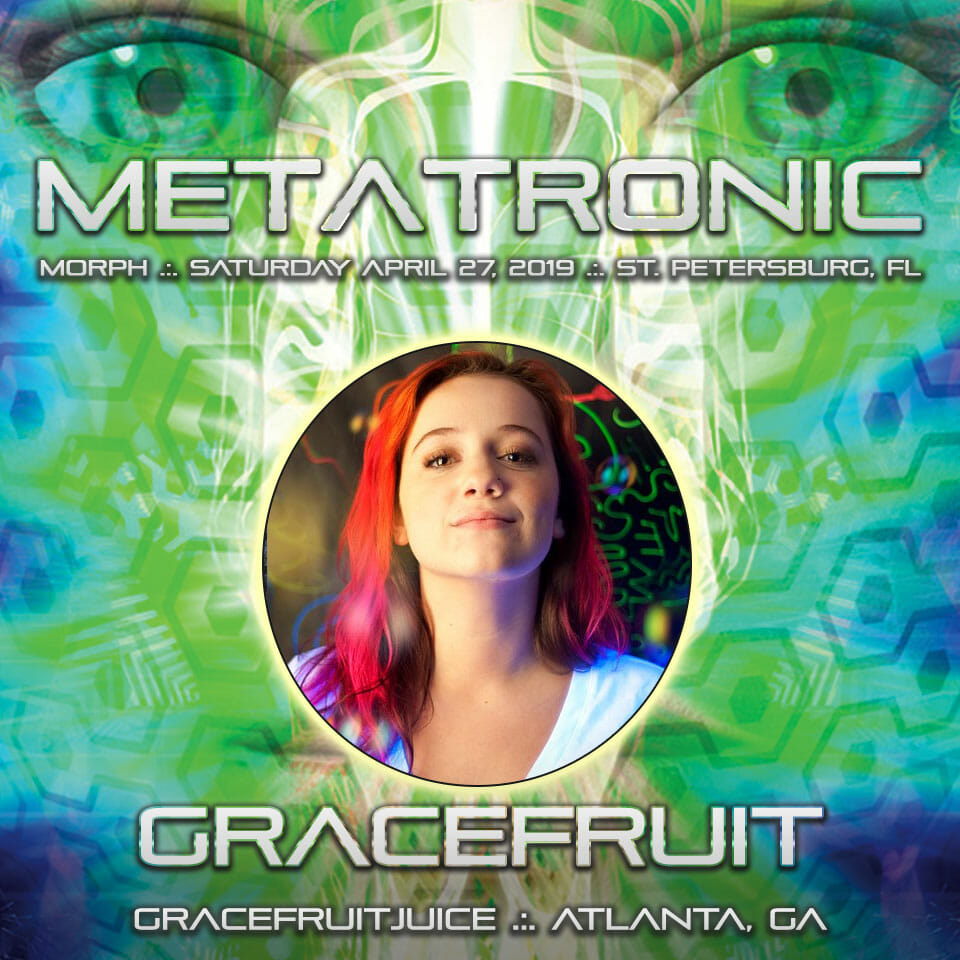 Gracefruit
Gracefruitjuice .:. Atlanta, GA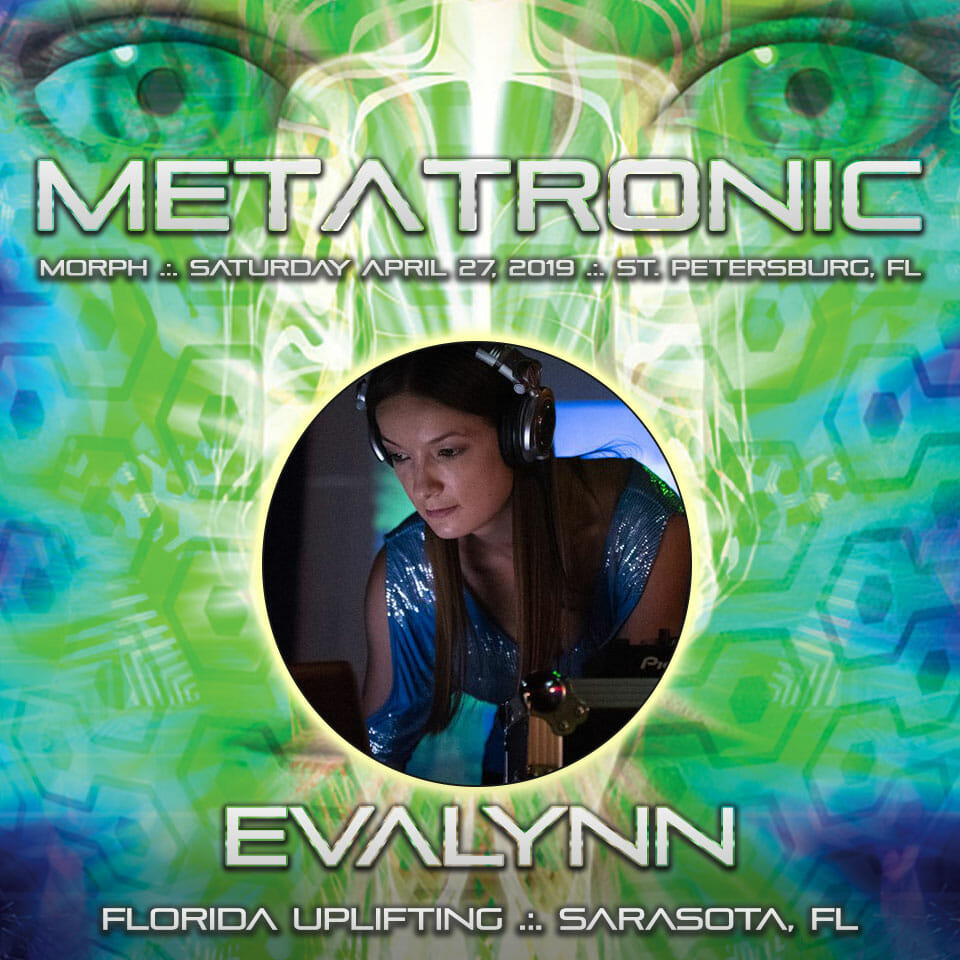 Evalynn
Florida Uplifting .:. Sarasota, FL
"There is nothing like making people smile by connecting through music" – a motto that EvaLynn swears by. EvaLynn is a trance DJ from New York, who has an undying love for electronic music since the early 90's while still living in Europe. Being constantly immersed in the world of dance music, she has developed interest in creating mixes and DJing. After attending events and meeting the right people, she got her kick start and held a DJ residency at a prominent radio station Diesel.fm.Following her success, she has played at parties through out Long Island, Brooklyn, and Queens, and collaborated with local established DJs at live gigs. At a later point, she has held a DJ residency at a UK radio station 1mix.co.uk where she represented her passion for Trance music.
Throughout her journey as a DJ, EvaLynn has established a name for herself and had the opportunity to play at parties along PsyTrance gurus such as ShivaTree, Loud, Mr. Pink, Protocell, Christopher Lawrence, and Suzy Solar. Recently relocating to the Tampa Bay area in Florida, EvaLynn is bringing the fresh sound of Trance into the area, while working on getting the genre more popular among the electronic music community.
While residing in Florida, EvaLynn has been establishing her name by DJing at venues all over the Sarasota, St. Petersburg, and Tampa area. She is strongly showing her passion for Trance music by constantly pushing it forward at events she plays at. Recently developing an interest in Hard House as well, you can be sure to hear best of both worlds from her. EvaLynn is determined and has an undying passion for Trance music to shoot straight forward through the male-dominated scene to leave her mark as a respected female DJ in the electronic music world.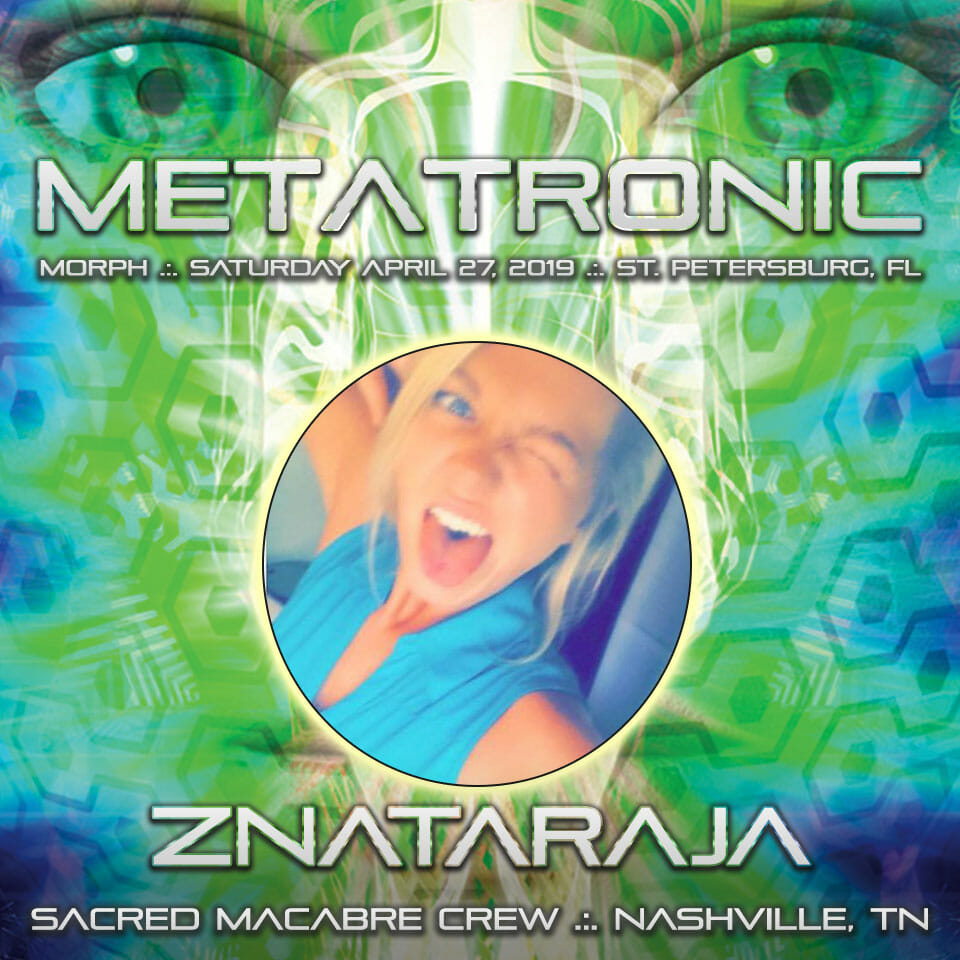 Znataraja
Sacred Macabre Crew .:. Nashville, TN
Visuals and deco by: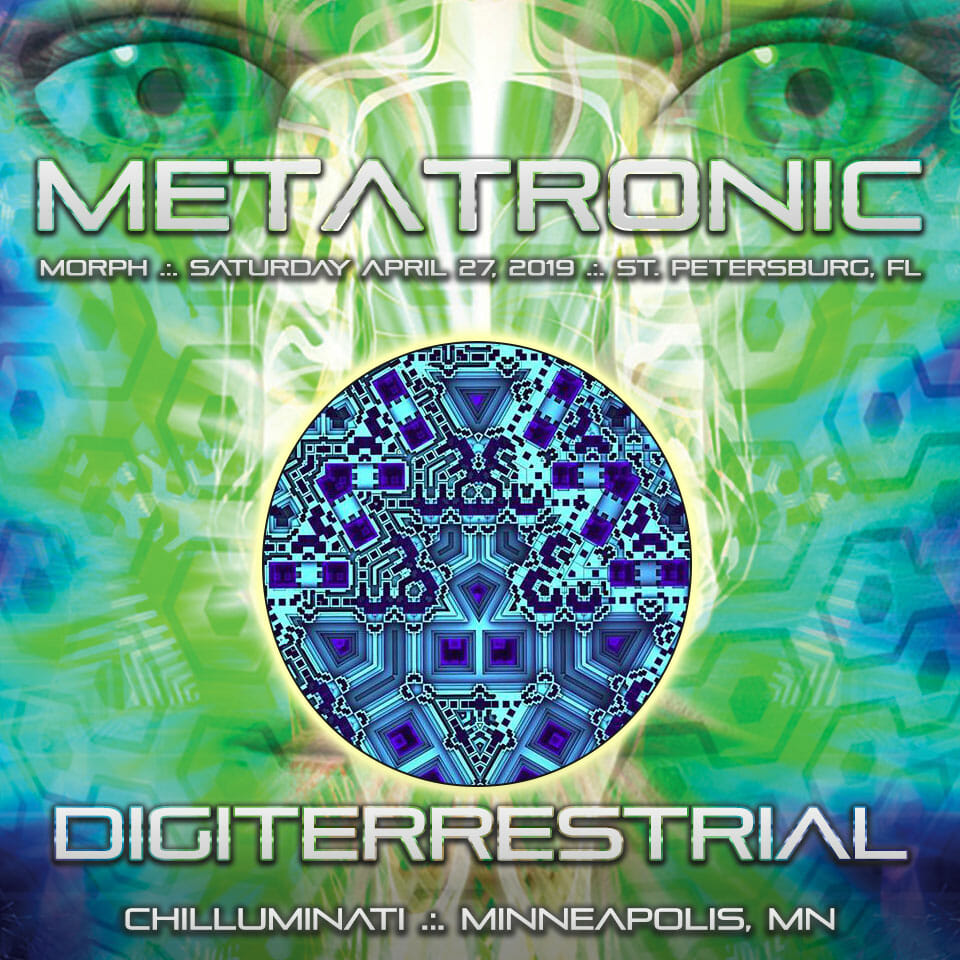 Digiterrestrial
Chilluminati .:. Minneapolis, MN
Digiterrestrial represents the creative works of Travis Gadbois, a multidisciplinary freelancer offering a variety of artistic services and creative support for many kinds of events and projects. Digiterrestrial's primary focus is balancing vibrant lighting, hypnotic visuals, and custom stage deco with the overall energy, or theme, of your event.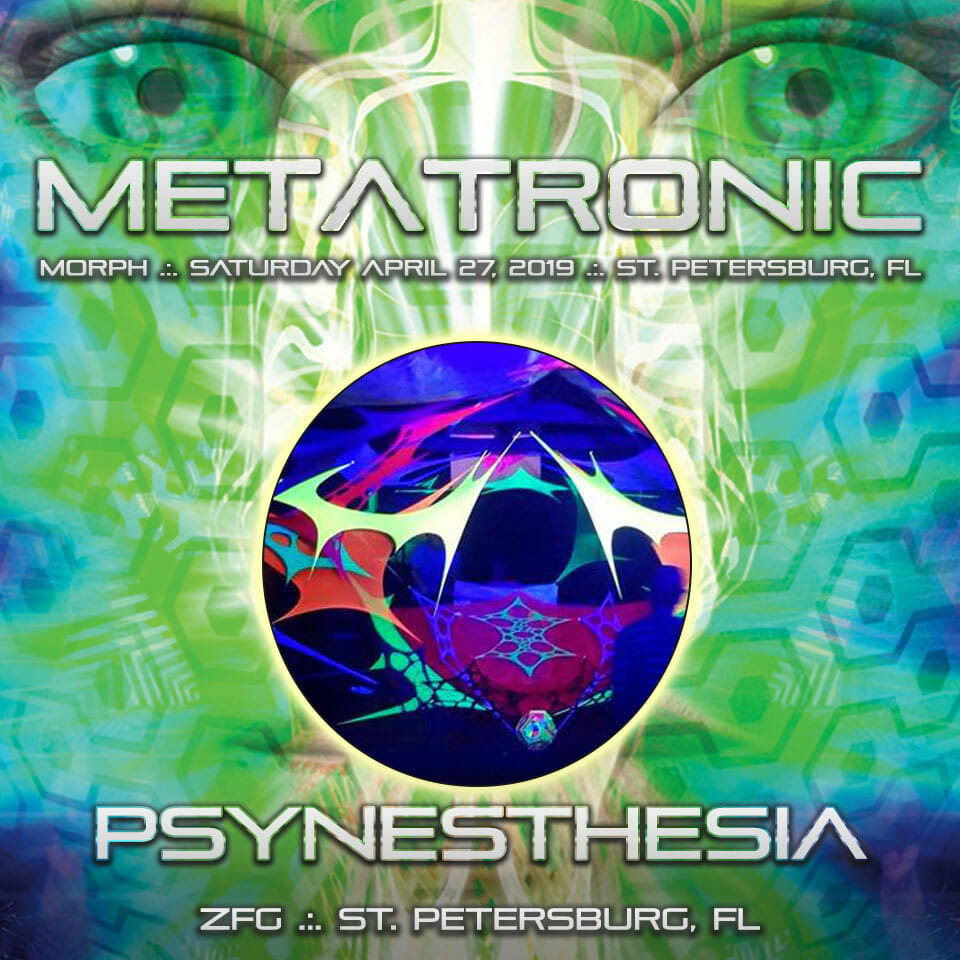 Psynesthesia
ZFG .:. St. Petersburg, FL
Stretchy stuff from outer space.
Art by Baruska A. Michalcikova (Jacksonville, FL)
Preview:
Important Information:
Metatronic is an all-night psychedelic and goa trance music event located in a commercial+industrial district in downtown St. Petersburg, Florida. Admission is restricted to ages 21 and up and there will be strict ID checks at the door.
We encourage you to purchase pre-sale tickets to guarantee admission and to save a few bucks.
R.O.A.R. (or Right Of Admission Reserved) is in effect for this event. This means that your participation is voluntary and at our sole discretion. The Chilluminati and Morph staff reserve the right to refuse entry or make anyone leave the event at any time for any reason, or no reason.
Absolutely NO UNDERAGE DRINKING, NO DRUGS, NO WEAPONS, NO DRAMA.
Metatronic IS A LEAVE NO TRACE EVENT. This means that you are expected to pick up after yourselves and help us return Morph to its owners in the same, IF NOT BETTER, condition than it was when we arrived.
You may be able to arrive early if you contact us ahead of time. Let us know what is on your mind!
Glow performers come play with us!
It is only through the participation of The Chilluminati Community we can make these events happen. We encourage participation on all levels, through any directive.
We've hosted events all over the Midwest USA for 14 years, and we're excited to return to the Tampa Bay area! Invite your friends, try something new, help us grow!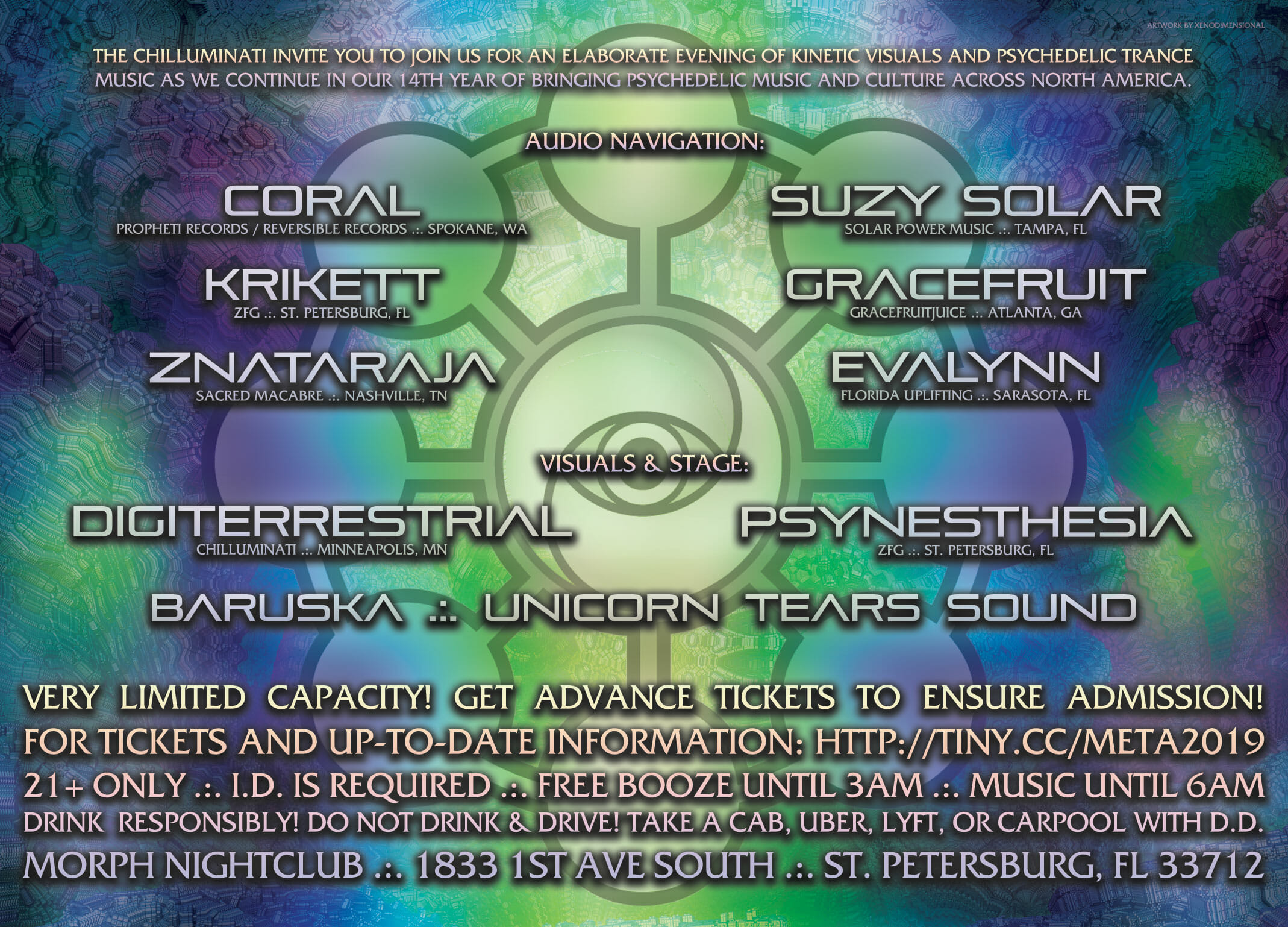 About The Chilluminati:
Psychedelic trance, chill and ambient are the music that we play. Music in itself is a transformative and psychedelic agent.

Our gatherings are more than music. They are multidimensional and multifaceted experiences-incorporating musical, visual, art and kinetic performances, as well as interactive workshops and community.


Our gatherings are about transformation and becoming. Whatever your sense of spirituality is, you bring that to the event.

At our gatherings everyone takes responsibility for the event, others and themselves.


Our gatherings have an atmosphere and a vibe. It is a field of energy that connects us.

Our gatherings are about expressing yourself, being creative, and being an individual.

Our gatherings are inclusive and open.


Our gatherings are both local and planetary; reflective of the American Midwest, yet global and culturally diverse.

We respect local laws and customs.

Our events are a gift which we all (organizers, artists, DJs, stagehands and attendees) give to each other. This is not about money, commercialization and exploitation. This is not a product; this is a community.