It's with a heavy heart that we have to say goodbye to amazing individual who was a pillar in the Chicago electronic music scene: Phil Free Art.
His approach to art was introduced to most through his Free Art! zine of the early '90s. His style was heavily influenced by both anime and graffiti artists, and imbued with a playfulness that translated his genuine and energetic presence through simple lines on a page or screen.
You will be greatly missed, Phil.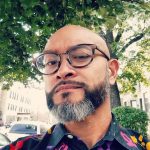 Full story: http://chicagoist.com/2015/09/10/musician_and_artist_phil_free_art_h.php